Aaron Price – Owner / Operator / Operations Manager / Guide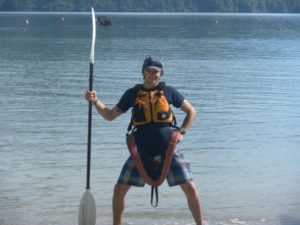 Since college, I have always known what I wanted to do for a living; it was not in an office but outside teaching and guiding in the outdoors. I have a Diploma in Outdoor Leadership and Management from Otago Polytechnic, and after I graduated I have always found work in the outdoors.
Whilst working in NZ, I have done a lot of freelance work as well as a season in the Abel Tasman (sea kayaking) and Queenstown (snow making).
In 2008, I got a job in the UAE as a lead instructor for International School groups. We taught various activities – climbing, abseiling, kayaking, canoeing and team building. Passing on my enthusiasm for the outdoors is what I love.
After meeting Nat in the UAE, I moved to the UK. I found a job at an outdoor activity centre for children and loved it. Whilst I was working over there, I came up with an expedition I would like to do and so started planning that. It is my largest expedition to date – to circumnavigate Great Britain in a tandem sea kayak. I teamed up with my good mate, Russell/Scrat for this expedition. This was a massive undertaking, as we were the first ever to attempt this during winter and also the youngest. It was an amazing adventure and I learnt a lot about myself. Unfortunately we did not complete it due to an injury I sustained, but I will go back to complete it one day!
Since returning to NZ, we have started to build our lives here in the Marlborough Sounds and are loving every minute of it. My passion for this industry and sport has never failed me so I can't wait to help everyone have that same experience.
Nat Sutton – Owner / Operator / Office Manager / Guide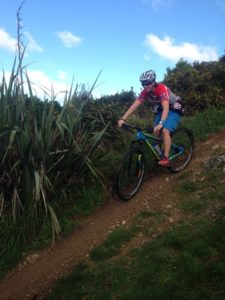 I was born and raised in the UK but now have residency  and intend to stay here in NZ for a long time.
I met Aaron back in 2008, in Dubai and it just so happens that he helped to inspire me in my  pursuit of a career in the outdoor industry. My childhood had consisted of camping holidays with biking or walking so I already had 'the bug'. I am a very keen runner and biker which has led to my lifelong ambition to complete an Ironman one day – Watch this Space!
I was in Dubai on my gap year, working with International children and I absolutely loved it. So when I returned to the UK, I pursued a Diploma in Outdoor Activities at my local college. Once I was qualified, I also worked with Aaron in the outdoor activity centre before we moved to NZ in 2011.
Our plan in NZ was to work and save money for an 18 month bike expedition through Australia. However when the opportunity arose to buy Sea Kayak Adventures, where we had already been working, we chose to explore that option. And here we are today! Building our life, showing all of you lovely people out there how awesome sea kayaking and mountain biking is, here in the Marlborough Sounds!
Jeremy Beninger – Guide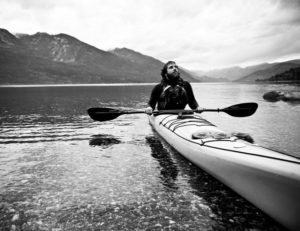 I am excited to come to come to New Zealand for the second time in my life. This is where my love for kayaking and the outdoors began. I am a Canadian, born in a small town in the mountains of British Columbia and received my diploma for Adventure Tourism in Vancouver. Since then I have spent the last 6 years as a kayaking/hiking guide on the west coast. I have a true passion for travelling, which has taken me to such places as the Amazon, Patagonia, and the deserts of South America. My other pastimes include paragliding, spear fishing, and kayak surfing. Ever since my first visit to New Zealand I have been waiting for the day to come back to where it all began.
Lance Zieltjes – Guide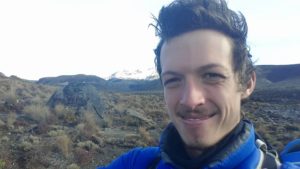 I am originally from a dairy farm located in the Waikato, NZ. Over the past 2 years I have been studying outdoor recreation where I discovered my passion for mountaineering and tramping having spent time in the Southern Alps.
I started Sea kayaking in 2015 having been able to enjoy some spectacular and been able to enjoy these places with other people. In my spare time I like to get out and about into the mountains, play a bit of sport, read and enjoy hanging out with other people.
Having explored some beautiful places in New Zealand I have come to realise I am to live, work and play here. My big goals in life are to complete the Volcanic 7 Summit challenge- climbing the highest volcano on each of the Earths seven continents. At the end of the day I want to be that kiwi with a big happy smile on his face.
Daryl McFarlan – Guide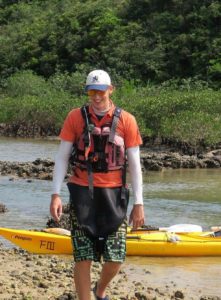 I hail from the Beautiful West Coast of Scotland, I'm a very active guy feeling most at home when focusing my mind on a sport or activity.  A little under 2 years ago during a week long stay at Glenmore Lodge in Avimore white water kayaking is when I found my Niche, I fell in love with the sport. Within 6 months I had moved to Fort William to undergo my Diploma in the outdoors. After 10 months learning hard skills in one of the most perfect places for outdoor activities, I moved on to a 6 month Internship with Outward Bound in Sai Kung, Hong Kong. There I have been gifted with some special sea kayaking to water my appetite for the sport even more. I'm still very fresh to the outdoors but attack every day and challenge with a smile and eagerness to learn more, and now I am very much looking forward to getting to New Zealand to broaden my experience even more.
Lexi – (the real Boss)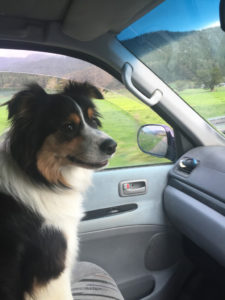 I am awesome if I do say so myself! I am a pure bred Border Collie who loves to swim, play and most of all meet new people. I was born in May 2014 and living at SKA is a massive learning curve as a pup. I'm into my teenage years now so I'm rebelling every now and then to keep Mum and Dad on their toes! There are lots of dangerous things in this place but my loving parents are awesome and look after me. If you are coming to visit, then I will gladly say hello and even give you a kiss if you ask nicely but please ask Mum or Dad first (they are a bit protective).