Aaron Price – Owner / Operator / Operations Manager / Guide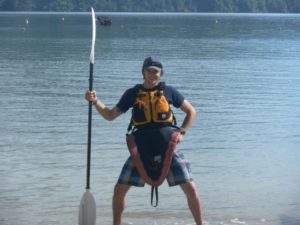 Since college, I have always known what I wanted to do for a living; it was not in an office but outside teaching and guiding in the outdoors. I have a Diploma in Outdoor Leadership and Management from Otago Polytechnic, and after I graduated I have always found work in the outdoors.
Whilst working in NZ, I have done a lot of freelance work as well as a season in the Abel Tasman (sea kayaking) and Queenstown (snow making).
In 2008, I got a job in the UAE as a lead instructor for International School groups. We taught various activities – climbing, abseiling, kayaking, canoeing and team building. Passing on my enthusiasm for the outdoors is what I love.
After meeting Nat in the UAE, I moved to the UK. I found a job at an outdoor activity centre for children and loved it. Whilst I was working over there, I came up with an expedition I would like to do and so started planning that. It is my largest expedition to date – to circumnavigate Great Britain in a tandem sea kayak. I teamed up with my good mate, Russell/Scrat for this expedition. This was a massive undertaking, as we were the first ever to attempt this during winter and also the youngest. It was an amazing adventure and I learnt a lot about myself. Unfortunately we did not complete it due to an injury I sustained, but I will go back to complete it one day!
Since returning to NZ, we have started to build our lives here in the Marlborough Sounds and are loving every minute of it. My passion for this industry and sport has never failed me so I can't wait to help everyone have that same experience.
Nat Price – Owner / Operator / Office Manager / Guide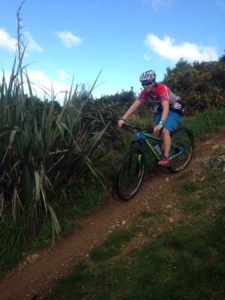 I was born and raised in the UK but now have residency and intend to stay here in NZ for a long time.
I met Aaron back in 2008, in Dubai and it just so happens that he helped to inspire me in my  pursuit of a career in the outdoor industry. My childhood had consisted of camping holidays with biking or walking so I already had 'the bug'. I am a very keen runner and biker which has led to my lifelong ambition to complete an Ironman one day – I have done one now and half a dozen 70.3 Ironman's. My next goal is to qualify for Kona, Hawaii – The World Championships.
I was in Dubai on my gap year, working with International children and I absolutely loved it. So when I returned to the UK, I pursued a Diploma in Outdoor Activities at my local college. Once I was qualified, I also worked with Aaron in the outdoor activity centre before we moved to NZ in 2011.
Our plan in NZ was to work and save money for an 18 month bike expedition through Australia. However when the opportunity arose to buy Sea Kayak Adventures, where we had already been working, we chose to explore that option. And here we are today! Building our life, showing all of you lovely people out there how awesome sea kayaking and mountain biking is, here in the Marlborough Sounds!
 Jonathan Lee – Guide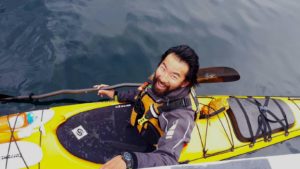 This will be my second year working for Sea Kayak Adventures and I am stoked!
Coming from Vancouver, British Columbia I have always had a degree of connection with the outdoor world based on the cities geography, however it has been in the past 6 years where the outdoor world has been integrated into my personal and professional life. I've worked as a canoe guide, snowshoe guide, and camp instructor before entering the kayak industry. Along with industry experience I have a diploma in Outdoor Recreation Management and a B.A. in Anthropology. I am a Level 2 guide with the Sea Kayaks Guides Alliance of British Columbia and will be entering my 5th season guiding.
Sofie Ofstad – Guide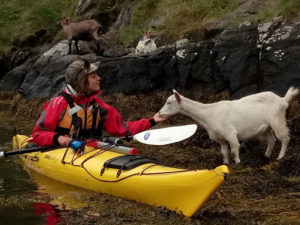 I grew up in four different countries on three different continents, this led to a restlessness settling in my blood and I've migrated biannually for the past decade. Just over two year ago I fell madly in love with a handsome kiwi and as a result I'm now, for the first time, trying to stay in one place. Luckily, it's not just any place, it's the Marlborough sounds! I come from a background in sailing, having crossed some oceans and lived on boats for a good few years. Sea kayak guiding has been my occupation for the past 3 years, having done back-to-back seasons in the fjords of Norway and in Abel Tasman National Park in New Zealand. I'm a certified Norwegian Nature Guide, for what it's worth in New Zealand, and I'm at my happiest when I'm afloat.
Gareth Hamilton – Guide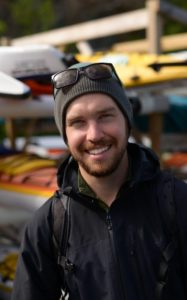 Growing up right in the middle of Canada wasn't ideal for sea kayaking, but I always enjoyed canoeing on some of the many lakes and rivers before the return of another inhospitable prairie winter. It wasn't until I went for a paddle during a family trip to the British Columbia coast that I realized what I was missing out on. Years later, I became certified as a sea kayak guide while obtaining a college diploma in the field of adventure tourism and business. Since then I've had the pleasure of guiding and exploring some of the most remote and beautiful places that Canada has to offer. I currently hold a Level 2 certification with the Sea Kayak Guides Alliance of BC and this will be my 6th season on the water. My favourite thing about this line of work is that no day at sea is ever the same and the ocean is full of surprises! I'm always excited for the opportunity to share my passion and show others why it's worth protecting.
Jamie Cruickshank – Guide
My first experience sea kayaking was on the Isle of Man, a small island right in the geographical centre of the British Isles (and yet somehow still isolated…) where I'd just taken a job as a trainee outdoors instructor. From that moment on I knew that although all outdoor activities are great, sea kayaking is simply the best. Since then I have regularly moved around the UK whilst always making sure I remain just a short drive from at least one of the country's many coastlines.
My constant search for quality sea kayaking has since brought me here to the Marlborough Sounds and so far I am absolutely loving it. Exploring new areas goes hand-in-hand with sea kayaking and there is definitely plenty of that to do here.
Lexi – (the real Boss)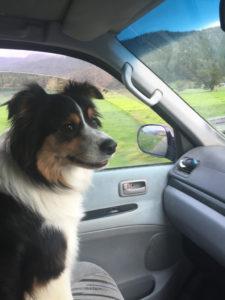 I am awesome if I do say so myself! I am a pure bred Border Collie who loves to swim, play and most of all meet new people. I was born in May 2014 and living at SKA is a massive learning curve as a pup. I'm into my teenage years now so I'm rebelling every now and then to keep Mum and Dad on their toes! There are lots of dangerous things in this place but my loving parents are awesome and look after me. If you are coming to visit, then I will gladly say hello and even give you a kiss if you ask nicely but please ask Mum or Dad first (they are a bit protective).